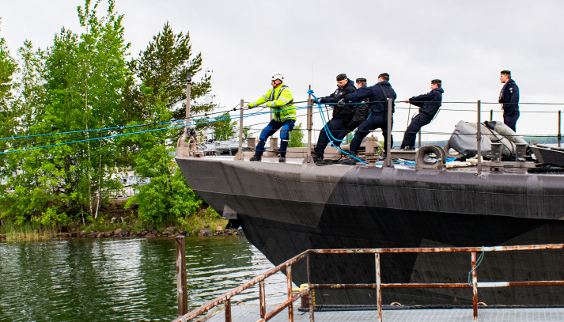 Partnership
The Defence Forces and civilian society actors network together and pursue cooperation in the framework of partnerships, which is a precondition for the operation of the Defence Forces' logistics system in normal and emergency circumstances.
The FDF logistics system is closely connected to the networks and actors of the society around it in matters related to the daily provision of support or logistics services for FDF units in normal conditions, preparing for emergency circumstances, or technical maintenance and development of defence materiel for purposes of availability long-term.
The Defence Forces focuses on its core task of military national defence, so partner companies and other organisations play a central role in providing services and support in their respective fields of expertise for the Defence Forces. Partnerships play a significant role in any state of readiness; preparedness in normal circumstances is something that links actors of the Finnish society to military national defence already in times of peace.
The Defence Forces Logistics Command Headquarters is responsible for managing the partnerships related to the FDF logistics system. It prepares the agreements between FDF administrative units and outside service providers.
Important partners include, among others, Patria Oyj and Millog Oy (maintenance and life cycle management of defence materiel), Insta Group Oy (digitalization, C2 systems and cyber security), Nammo (production of ammunition), Leijona Catering Oy, Soldier's Home Association (soldiers' free-time canteen) and the Defence Properties Finland (facilities management, real estate specialist tasks and service production).