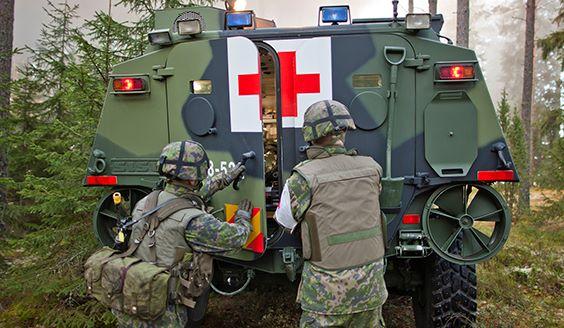 Centre for Military Medicine
The Centre for Military Medicine takes care of the health of conscripts and the Finnish Defence Forces personnel. The centre also organises training in field medicine and conducts military medicine research. The Military Medicine Archive attached to the Centre is responsible for the archiving of conscripts' health information cards and medical examination cards as well as information provision.
The Field Medicine Unit comprises 18 health centres in garrisons around Finland. These centres provide GP services for conscripts. Healthcare services are available both in garrisons and when training outdoors in field conditions.
The Centre for Military Medicine includes an aeromedical centre and a diving medical centre. These centres do check-ups for FDF pilots and divers.
The Specialist Unit of the Centre for Military Medicine provides the Defence Forces with expertise in environmental health care as well as in CBRN medicine, among others.
The Centre for Military Medicine has offices in 20 locations around Finland and it employs 380 people. The centre is part of the Defence Forces Logistics Command.