Finnish Defence Forces' summer tour to start in June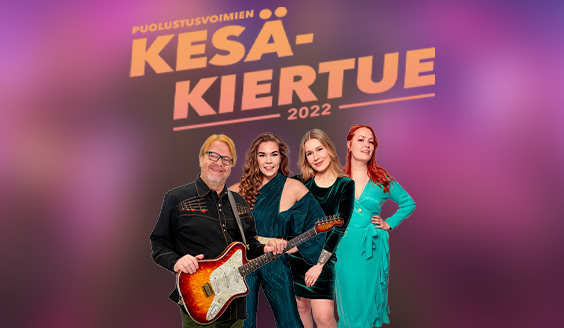 In June, the Finnish Defence Forces' summer tour will be seen and heard in 12 locations across Finland. Along military music full of energy, the programme for the summer tour will also include familiarisation with the FDF activity and equipment.
– The summer tour brings the Finnish Defence Forces close to all Finns. While planning for the tour, we have considered also those locations where the FDF has no garrisons as such. We welcome all to enjoy the joyful summer festival that also offers opportunity for familiarisation with the FDF equipment and capability, ACOS Personnel, Brigadier General Rami Saari from the Defence Command says.
With free admission, the summer tour events will offer a wide selection of music ranging from military music and blues to pop, rock and soul music. The Air Force Big Band will start the tour at 18 with Heikki Silvennoinen as the soloist.
The evening will continue by the Souls of Women trio with Emilia Vihanto, Iina Mutikainen and Klaara Koivunen who will perform the classics of soul music including, among others, music by Whitney Houston, and The Weather Girls. During the tour, the Souls of Women trio will be accompanied by a given military band in each tour location.
The music performance of the evening will be closed by the Show Band of the Finnish Defence Forces' Conscript Band. The 20-conscript-strong band specialises in both rock music classics and groovy funk as well as the most well-known hits of pop and rap music.
All events will have free admission. Welcome!
At 18, the Air Force Big Band with Heikki Silvennoinen as the soloist
At 19, Souls of Women trio, the Guard's Combo / Navy Big Band / Dragoon Band's Big Band / Lapland Military Band's Big Band
At 20, the Show Band of the FDF Conscript Band
Tour dates and locations
Please see event-specific information on each event's page.
Ke 1.6. Tampere
To 2.6. Turku
Pe 3.6. Lahti
La 4.6. Helsinki
Ti 7.6. Joensuu
Ke 8.6. Kuopio
Pe 10.6. Kouvola
La 11.6. Lappeenranta
Ti 14.6. Kokkola
Ke 15.6. Oulu
Pe 17.6. Rovaniemi
La 18.6. Kajaani